Wireless LAN Access Point Mode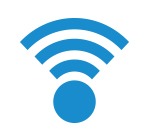 For environments without Wireless Network, compatible DEVELOP MFPs now have the capability to deliver their own Wireless LAN, thanks to the Wireless LAN Access Point Mode, without the need for a third party access point (router).
ineo+ 658/558/458
ineo+ 554e/454e
ineo+ 364e/284e/224e
ineo+ 368/308
ineo+ 287/227
ineo 558/458/368/308
ineo 554e/454e
ineo 364e/284e/224e
ineo 367/287/227
ineo+ 3851/3851FS/3351
ineo+ 3850FS/3850
ineo+ 3350
ineo+ 3110/3100P
Necessary options:
UK-208(ineo xx4e), UK-215 (ineo xx7 and xx8), UK-216 (ineo+ 3851FS/3851/3351), NC-P03 (ineo+ 3850FS/3850/3350/3110/3100P/ 4750/4050). Please note that additional mount kit or USB interface kit may be required.
Notes:
- It may be necessary to update the device firmware. Contact your DEVELOP service provider for details.
- Up to five units can be connected at one time. (only one unit with A4 models)