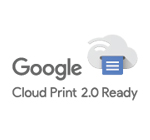 Google Cloud Print is a printing service provided by Google which connects your DEVELOP printer or MFP to the web via smartphones, tablets, Chromebook, PC or any other web-connected device in use for your application.
Print from a wide range of devices, such as smartphones and tablet devices with iOS or Android.
OS, and also Windows and Mac PCs; no extra printer drivers needed.
Send print jobs to your office printer via the Cloud even while you're out of the office.
ineo+ 754/654
ineo+ 554/454/364/284/224
ineo+ 754e/654e
ineo+ 554e/454e/364e/284e/224e
ineo+ 368/308
ineo+ 287/227
ineo+ 458/558/658
ineo 754/654
ineo 754e/654e
ineo 558/458/368/308
ineo 554e/454e/364e/284e/224e
ineo 367/287/227
ineo 958/758
ineo+ 3851/3851FS/3351
ineo+ 3850/3850FS/3350
ineo 4750/4050
ineo 4700P/ 4000P/3301P/3300P
ineo 4020/3320
Note:
Depending on Google Cloud Print specifications, the layout of a document which has been printed may vary from the layout of the original document.
It may not be possible to print encrypted PDFs.
Firmware which is compatible with Google Cloud Print is required.
Software:
Google Cloud Print Setup
To use Google Cloud Print it may be necessary to update the device firmware. Contact your DEVELOP service provider for details.
Memory extension and/or optional web browser may be required to install Google Cloud Print on the DEVELOP Print system