Multi-touch operation similar to smartphone and tablet
High speed scanning system with 240 ipm
Optional multi-feed detection kit
Outstanding colour quality with optional Fiery controller
Individually adaptable panel operation
Direct integration of time-saving solutions
Flexible finishing and media versatility
Superior security features
Low energy consumption and outstanding eco performance
Copy/print with up to 65/65 ppm A4 and up to 32/32 ppm A3 in colour/black & white
Scanning of up to 240 ipm in colour and black&white
Fax with Super-G3-Fax option for fast transmission and digital reception, polling, time shift, PC-Fax, receipt to confidential box, receipt to e-mail, FTP, SMB
Standard: Embedded controller with 1.6 GHz
Optional: Fiery controller IC-418 with 2.7 GHz
Standard: 3,650 sheets, max. 6,650 sheets
2 x 500-sheet universal cassettes (A5-SRA3, 52-256 g/m²),
150-sheet bypass (A6-SRA3, 52-300 g/m²) for standard paper, envelopes, OHP, thick paper
1,000-sheet and 1,500-sheet cassettes (A5-A4, 52-256 g/m²) for standard paper
Inner finisher with corner and 2 point stapling, max. 500 sheets capacity
Punch kit option for inner finisher (2/4 holes)
Floor-type finisher for 50-sheet/100-sheet stapling
Floor-type finisher with saddle-stitch unit for booklets of up to 80 pages
Punch kit option for 50-sheet finisher (2/4 holes),
Optional for 100-sheet finisher: booklet kit (incl. letter- and center-fold), punch kit (2/4-hole), job separator, post insertion unit, z-fold & punch unit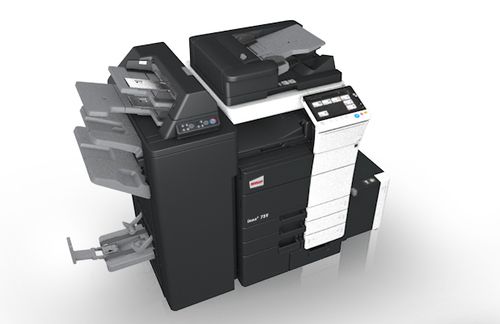 Multi-touch panel
Navigate easily, intuitively and conveniently through all system functions. Your customisable capacitive 10-inch multi-touch panel is as simple to use as your smartphone or tablet - thanks to features like flick-and-drag, pinch-in/pinch-out and rotate.
Mobile touch area
The integrated mobile touch area brings work flexibility to a new level enabling mobile device users to connect, print and scan just by touching the mobile area with the device.
High-class scanning
Save time and optimise digital document production with fast scanning of up to 240 images/min. in your preferred file format including PDF, PDF/A or searchable PDF, DOCX, XLSX and PPTX.
Data security
Your documents and data remain safe and confidential. Features like secure printing, hard-disc encryption, automatic data deletion and the possibility to add a second hard-disc for mirroring prevent potential data loss and ensure that your documents get into the right hands.
Sustainability
Reduce environmental impact while saving costs thanks to the use of recycled materials as well as numerous eco features that minimise energy consumption and avoid waste.
Productivity
Modular paper input options offer customised configurations: The high maximum paper input capacity of up to 6,650 sheets with the optional large capacity tray ensures the uninterrupted production of larger jobs without running out of paper.
Media flexibility
Print envelopes, recycled paper, preprinted paper, overhead transparencies and many other media without a hitch - thanks to flexible media handling that processes paper of 52 to 300 g/m², formats from A6 to SRA3 plus custom formats, and that includes banner printing up to 1,200 mm length.
Versatile finishing
Benefit from booklet creation for up to 80 pages, different letter-folding modes, stapling of handouts and hole punching. Not only do you gain the flexibility of producing almost all your jobs in-house, it also saves you money by avoiding expensive print shop bills.