Easy and intuitive panel operation
Individually adaptable operation panel
Comprehensive range of security features
Low energy consumption and outstanding eco performance
Direct integration of timesaving solutions
Copy and print up to 40 ppm A4 in black & white
Scanning of up to 94 ipm
Fax with Super-G3 fax option for fast transmission and digital reception, polling, time shift, PC-Fax, receipt to confidential box, receipt to email, FTP, SMB
Standard: Embedded controller with 1.2 GHz CPU
Standard: 650 sheets, max. 2,300 sheets
1 x 550-sheet cassette (A6-A4, 60 - 120 g/m²)
100-sheet bypass (A6-A4, 60-216 g/m²) for standard paper, envelopes, OHP, thick paper
Duplex unit (A4, 60 - 90 g/m²)
Duplex print
Corner stapling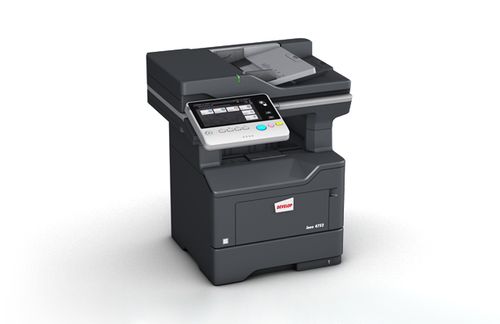 Multi-touch panel
The 7-inch colour touch screen makes work more fun thanks to easy navigation and operation similar to DEVELOP A3 devices
Mobile touch area
The integrated mobile touch area lifts work flexibility to a new level enabling mobile device users to connect, print and scan just by touching the mobile area with the device
Fast scanning
Save time and optimise the production of digital documents with dual scanning in your preferred file format, including TIFF, PDF, CompactPDF, JPEG, XPS, PDF/A, CompactXPS, PPTX or Linearized PDF
Data security
Your documents and data remain safe and confidential. Features like secure printing, print management support, hard-disc encryption and automatic data deletion prevent potential data loss and keep your documents in the right hands.
Connectivity
Equipped with the optional WLAN kit, the machine can establish a WLAN Access Point to which you can connect with any mobile device in parallel to your LAN or WLAN company network. This gives you more flexibility.
Latest technology
Using latest technology and applications, the devices offer various features such as remote support, device management, additional barcode and unicode printing as well as integration to print management and scan workflows
Media flexibility
High media flexibility of up to 216 gsm and paper capacity of up to 2,300 sheets facilitate the creation of a wide range of documents and keep productivity high
Finishing
Easy to use optional staple finisher for corner-stapling of up to 20 sheets per set.