Productivity gains through more efficient workflows
ineo 654e/754e: high-end office machine from DEVELOP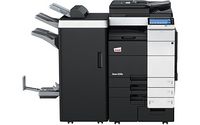 Langenhagen, November 2013. Businesses are always looking to increase productivity, enhance efficiency and minimize expenditure. Printing, photocopying and scanning workflows are no exception. It is here that the ineo 654e/754e from DEVELOP has a lot to offer. Since engine speed alone does not define productivity in a high-end office machine, this high-end monochrome office system has been designed to improve pre- and post-printing processes.
"When businesses invest in a high-end monochrome office system these days, they rightly expect a lot more machine for their money," says Lars Moderow, the ineo 654e/754e product manager. "That's why the ineo 654e/754e focuses on giving business customers the added value they want – productivity gains, greater flexibility in everyday document workflows, and in particular ease of use. This added value results in a rapid return on investment."

More productive in the document workflow
The ineo 654e/754e makes productivity gains possible through a variety of features. Highly versatile finishing functions boost efficiency, especially if the device is used in an in-house print room where its media versatility also allows a wide range of material to be printed internally. The fact that even non- technically minded users will find the ineo 654e/754e easy to operate is a key time-saving feature. Last but not least, the speed at which the ineo 654e/754e prints and copies (65/75 A4 pages per minute) minimises job queues and enables staff to get on with their normal work while the machine takes care of the printing and copying.

More flexible in finishing and media
When a high-end office device is employed at a centralised location or in-house print room, much more is demanded of the system than merely printing or copying at high speed. Many print jobs may require, for example, sophisticated output such as multi-page booklets or black-and-white printouts with colour covers. Besides, jobs may well need to be printed on a wide range of media. That is why the ineo 654e/754e has been specifically designed to offer numerous finishing options from simple stapling to professional booklet making. Particularly useful features include colour cover insertion or Z-folding (so A3 pages fit into an A4 folder). The ineo 654e/754e also supports a broad media spectrum ranging from 52 to 300 g/m2 in weight and A6 to SRA3 in size. Printing oversized project plans or calculations is no problem at all since the ineo
Monochrome printing | ineo 654e/754e654e/754e can handle banners of up to 1.2 metres in length. Such flexibility means that jobs that have previously been outsourced can be printed in house. And that adds up to a faster return on investment.

More user-friendly than ever
Office users often rightly complain about how complicated high-end office devices are to operate. That is why ease of use was one the main design criteria for the ineo 654e/754e. As a result, nobody should have any trouble in making full use of this device's extensive functionality. Smartphone and tablet users will be instantly familiar with the 9-inch multi-touch, full-colour operating display thanks to the system's drag&drop functionality, finger-swiping menu and sub-menu pop-ups. The tablet-sized operating panel is easy to read and clearly arranged. While displaying all key functions at a glance, the home page naturally cannot include all the functions a user may need. But since the menu is really easy to navigate, nobody should have any difficulties finding the required function. Ultimately, this means that users will spend less time setting up a job, which saves them time and boosts a company's overall productivity.

More efficient document workflows
The features designed to ensure more efficient document workflows in a corporate printing environment include a scanning speed of up to 180 images per minute and optional software tools that help to reduce the amount of manual work involved in scanning or archiving work. DEVELOP's convert+share, for example, allows scanned documents to be stored in a wide range of file formats and ensures the files can be sent to any destination a user wants. Another DEVELOP tool, store+find, helps users locate document files fast and thus does away with time-wasting searches.

Economical eco-friendliness
The ineo 654e/754e is both economical and eco-friendly. The energy-saving features include energy- efficient LED scanner lighting, an approx. 3W sleep mode and an even more efficient power-save mode, a wake-up-for-scan-only technology that avoids heating the engine when it is not needed, and a dynamic eco-timer that analyses device usage and adapts settings accordingly. Low power consumption and paper-saving duplex printing or copying at full speed are just two of the reasons why the ineo 654e/754e comes with Blue Angel and Energy Star certification.
More information:
Ole Maaz
Specialist Marketing Communications
Konica Minolta Business Solutions Europe GmbH
Tel.: +49 (0)511-7404-5213
Ole.Maaz(at)konicaminolta.eu


to product