ineo 3300/4000/4700P printers from DEVELOP speed up the document workflow
Enhanced efficiency in office printing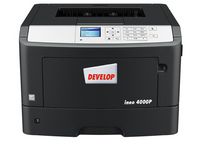 Langenhagen, April 2013. There is undoubtedly much room for improvement in the routine jobs that account for most of an office's document output. This is particularly true of many small to mid-sized businesses or workgroups. A new monochrome printer range from DEVELOP, the ineo 3300P/4000P/4700P, brings a welcome boost to efficiency in office printing.
As Ronja Harste and Melissa Andres, the ineo 3300P/4000P/4700P product managers, point out, "These office printers are real time-savers in everyday office work. Not only are they fast in processing data and printing documents, they are also extremely easy to use, can hold up to 2,300 sheets of paper and be fitted with three paper trays for different media. The other outstanding features are their user- and eco-friendly operation, lightweight design and small footprint – and that makes them the ideal printer for small businesses or workgroups of up to 15 people."
Fast processing
With maximum output speeds ranging from 33 (ineo 3300P) to 47 A4 pages per minute (ineo 4700P) these new printers are ideally equipped to serve as the main printer in a workgroup or small business and a desktop device in larger firms. All three printers feature a fast processor to ensure even high-volume jobs are processed and printed fast – a crucial factor in a multi-user environment. Moreover, the
ineo 4000P and 4700P come with the option of extending the memory to 1.28 GB for an even more powerful performance.
Ease of use
No office worker wants to spend time consulting the operating manual of a new printer in order to be able to operate the device. Fortunately there is no danger of that happening with these new printers from DEVELOP as they are all extremely easy to operate thanks to a simple-to-follow navigation concept. A particularly useful feature of the ineo 4000P and 4700P is their 2.4-inch colour display with its intuitive operating principle and highlighted menus that show users the system's status, operating options and settings.
Flexibility in paper management and media
In businesses where high-volume printing jobs are commonplace the 2,300-sheet maximum paper capacity of the ineo 4700P (2,000 in the ineo 4000P) is a very useful option in ensuring the machine does not run out of paper while printing multipage documents. And if a business prints on different kinds, sizes and weights of paper (in this case A6-A4 and 60-163 g/m2), the option of equipping the ineo 4000P and 4700P with up to three different paper trays (with 250 or 550 sheets) will also prove a useful time-saver.
User-friendly energy saver
None of these three printers needs to be hidden away in the photocopying room to avoid the annoying noises and emissions frequently associated with office printers. Operating the printers in eco-mode not only saves electricity and toner but also ensures they run extremely quietly as well. All three models come with a standard duplex printing function to save paper and energy. The system's hibernate mode reduces the machine's power consumption to less than 0.5 W when users manually activate or pre-program this to cut in at the end of a working day, for example.
Compact convenience
The lightweight design and small footprint of these three printers can be a big advantage in a cramped office or in a desktop printing situation. The convenience of having a fast and efficient printer within easy reach of an office workplace should not be underestimated, e.g. when printing confidential or other sensitive documents in an HR or finance department.
All in all, these three printers from DEVELOP promise to eliminate much of the time-wasting inefficiency that typifies many of the document workflows in small to mid-sized workgroups and businesses.
More information:
Ole Maaz
Specialist Marketing Communications
Konica Minolta Business Solutions Europe GmbH
Tel.: +49 (0)511-7404-5213
Ole.Maaz(at)konicaminolta.eu
to product